July 29, 2020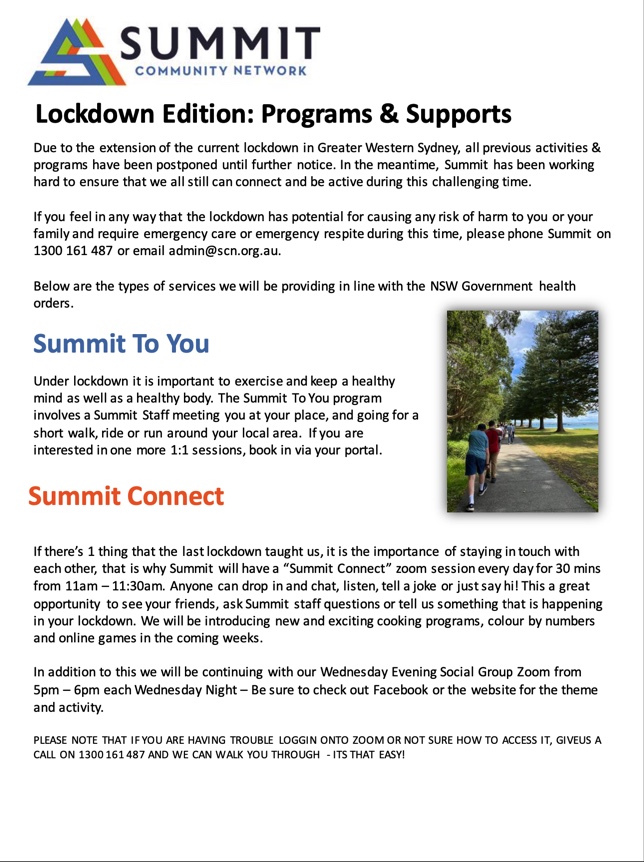 Lockdown Edition: Programs & Supports
Due to the extension of the current lockdown in Greater Western Sydney, all previous activities & programs have been postponed until further notice. In the meantime, Summit has been working hard to ensure that we all still can connect and be active during this challenging time.If you feel in any way that the lockdownhas potential for causing any risk of harm to you or your family and require emergency care or emergency respite during this time, please phone Summit on 1300 161 487 or email admin@scn.org.au.Below are the types of services we will be providing in line with the NSW Government health orders.
Summit To You
Under lockdown it is important to exercise and keep a healthy mind as well as a healthy body. The Summit To You program involves a Summit Staff meeting you at your place, and going for a short walk, ride or run around your local area. If you are interested in one more 1:1 sessions, book in via your portal.
Summit Connect
If there's 1 thing that the last lockdown taught us, it is the importance of staying in touch with each other, that is why Summit will have a "Summit Connect" zoom session every dayfor 30 mins from 11am –11:30am. Anyone can drop in and chat, listen, tell a joke or just say hi! This a great opportunity to see your friends, ask Summit staff questions or tell us something that is happening in your lockdown. We will be introducing new and exciting cooking programs, colour by numbers and online games in the coming weeks.In addition to this we will be continuing with our Wednesday Evening Social Group Zoom from 5pm –6pm each Wednesday Night –Be sure to check out Facebook or the website for the theme and activity.PLEASE NOTE THAT IF YOU ARE HAVING TROUBLE LOGGIN ONTO ZOOM OR NOT SURE HOW TO ACCESS IT, GIVEUS A CALL ON 1300 161 487 AND WE CAN WALK YOU THROUGH -ITS THAT EASY!